Armor
From MM6 Wiki
Leather armor is available for all classes,

Knights have it by default, others can choose it as one of the starting skills. Later it can be taught in New Sorpigal's Blade's End guild (375
), in Buccaneers' Lair guild on Misty Islands (500
), in Silver Cove (Protection Services, 750
) or Blackshire (Smuggler's Guid, 625
).
At rank 4 the skill can be upgraded to expert level for 1000
in Castle Ironfist (Newt Headrow) or Misty Islands (Arthur O'Leery). Arlen Sailor in Frozen Highlands teaches master leather for 3000
at rank 10.
Armor Class
ID/Repair
Value

Leather Armor
4
1
150
Lightest and most easily made among the armors, leather armor offers the least protection. This particular suit is of average quality.

Studded Leather
6
3
250
Studded leather offers more protection than regular leather armor at the expense of being stiffer and weighing more. This particular suit is well made.

Enchanted Leather
10
5
450
An otherwise ordinary suit of leather armor, this suit is imbued with a subtle enchantment that strengthens the material against blows without increasing weight.

Dragon Leather
16
7
750
Standard issue leather armor for officers in the Regnan Navy. All such leather armor receives enchantments to strengthen and lighten it during its creation in the Regnan Armories.
Chain skill can be chosen as one of the starting by

Knights and

Paladins. For

Sorcerers and

Druids it is banned. The skill can be learned later in Castle Ironfist (500
), Silver Cove (625
) (Berserkers' Fury guilds), Misty Islands (500
) or Free Haven (625
) (Duelists' Edge guilds).
For 1000
at rank 4 the skill can be upgraded to expert level by Rich Hamburg (Castle Ironfist) or Preston Harper (Bootleg Bay).
Master chain is taught for free by David Feather at the Mire of the Damned (rank 10, Crusader promotion).
Armor Class
ID/Repair
Value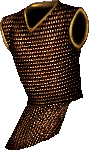 Chain Mail
8
1
400
Chain mail is an armor formed of small, interlocking loops of metal. This suit is low quality: the metal used is plain iron, there are only two layers of rings, and it is heavy and stiff for its size.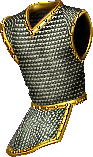 Steel Chain Mail
12
4
600
A superior suit of chain mail, the metal used in this suit is steel, and the former owner was careful to keep the suit well oiled and free of rust.

Noble Chain Mail
18
6
900
Cavalry officer's chain mail from the reign of Taledon V of Karigor, Divine High Priest and High Holy Conduit of the Church of the Sun, circa 870 A.S. The armor is high quality chain, enchanted to lighten and strengthen the metal.
Royal Chain Mail
26
8
1300
Highly enchanted armor worn by elvish nobility and royalty during the Timber Wars of the seventh and eighth centuries.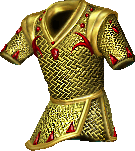 Majestic Chain Mail
36
10
1800
A very rare suit of armor turned out by the Heavenly Forges of Governor Padish before the Silence. The armor was originally worn strictly by the Governor and his highest military officers as a badge of office. It is not just for show; this chain mail is lighter, stronger, and more supple than any other chain in the world.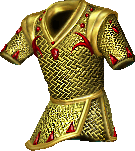 Galahad
38
15
20 000
Protection, +25 HP
Perhaps the finest chain mail created since the Silence, Galahad's material strength enchantments are so strong they are somewhat conferred upon the wearer's body, making it capable of withstanding much more abuse than normal.
Plate armor can be used by

Knights and

Paladins only. The skill can be learned in Castle Ironfist (500
) or Silver Cove (625
) (Berserkers' Fury guilds).
Expert teachers can be found in Castle Ironfist (Benito Tellman) and Free Haven (Woodrow Albright) (rank 4, 1000
). The skill can be mastered for free and without any rank prerequisitions by Forest Suthers in Free Haven when Hero promotional quest is completed.
Armor Class
ID/Repair
Value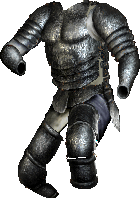 Plate Armor
20
1
1000
Composed of interlocking plates and joints, plate armor is the best unenchanted armor available. It is, however, heavy and slows the movements of the wearer. This particular suit is of average quality and the smith unknown.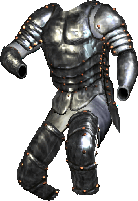 Steel Plate Armor
28
6
1400
Well constructed plates of steel work together to form an overall excellent suit of armor. A foundry stamp under the right arm indicates it was forged recently in Kelebrim.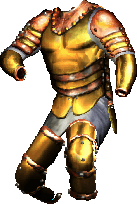 Golden Plate Armor
54
12
2700
This suit of plate armor was forged in the Mekorig foundry eighteen years after the death of Mekorig the Blind. A masterwork, the armor is almost as easy to wear as ordinary clothes, and is probably the best armor available in the world.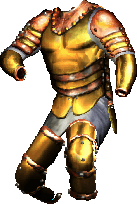 Pellinore
56
15
20 000
Recovery, regeneration, +30 endurance
Named after an ancient knight, Pellinore fortifies the wearer with an unnatural health so strong that the wearer heals from serious injuries in a matter of hours. The armor is quite heavy, and protects the wearer from being knocked about during combat.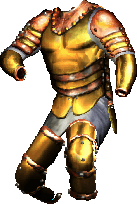 Zeus
64
20
30 000
+50 HP, SP and luck, -50 intellect
Perhaps this suit of armor was meant only for the Gods. Worn at times by barbarian chieftains, the armor will increase the physical vitality and magical energy the wearer has at his disposal, but at a terrible cost. House plants have been known to score higher on intelligence tests than wearers of this armor. One would think that accidental death would surely follow such a precipitous loss of thought, yet the luck the armor bestows seems to prevent disaster. Often the wearer of the armor becomes so stupid he forgets to remove it.