Dragonsand
Jump to navigation
Jump to search
"The mountains to the west keep all the horrible creatures of Dragonsand from rampaging across the rest of Enroth."
"Dragonsand, the great desert of Enroth, is home to all the worst monsters in the world. Dragons, titans, and other oversized killer monsters roam the sands freely on whatever errands such creatures find important. Humans foolish enough to travel the desert learn to run and hide very quickly, or they don't last long."
Map markers
Najat Ramadi

[Trade Pyramid for Armor]
[Trade Keg for Armor]

Kerman Murian

[Trade Pyramid for Weapon]
[Trade Keg for Weapon]

Irbil Baktarian

[Trade Pyramid for Accessory]
[Trade Keg for Accessory]

Bendar Jahrom [Trade Lamp for Gems]
Pedestal (Eagle Statuette) for quest
Fountain (+50 HP)
Fountain (+10 all stats permanent, Eradicated)
Fountain (+10 elemental resists permanet, Eradicated)
Tomb of VARN
New World Computing logo
Obelisk #6
Rock (Requires touching all obelisks first)
Monsters
"The legends say that the great ship used in the Crossing lies buried under a giant stone tomb in the middle of Dragonsand. There must have been a lake or ocean long ago where the desert is now, for the ship to end up in the middle of the desert!"
Map markers
Sentinel of VARN with Back Door Key
Switch, and Chest with Flame Door Key, Captain's Code, and Crystal Skull
Flame Door (need Flame Door Key)
Chest with Water Temple Key and First Mate's Code
Back Door (Need Back Door Key and 35 Might to open)
Door (need Water Temple Key)
Chest with Bibliotecha Chest Key, Navigator's Code, and Crystal Skull
Books with Communication Officer's Code
Chest with Doctor's Code and VARN Chest Key (need Bibliotecha Chest Key)
Books with Engineer's Code
Cleansing Pool - engineers code: yttocs
Cleansing Pool - communication officer's code: aruhu
Cleansing Pool - navigator's code: ulus
Cleansing Pool - doctor's code: yoccm
Cleansing Pool - first mate's code: kcops
Well of VARN - Captain's code: krik
Chest with Control Cube for quest (need VARN Chest Key)
Notes:
The picture door at the entrance requires 25 might to open.
The codes are character names from Star Trek spelled backwards.
Monsters
---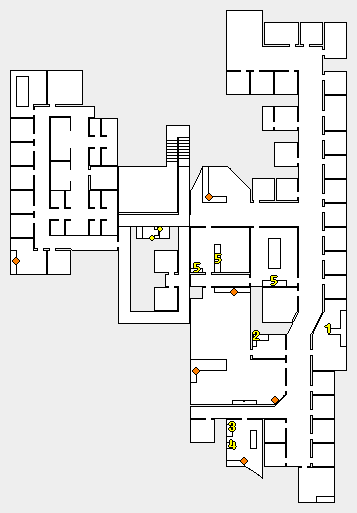 Map markers
Desk, Day of the Gods spell effect
Desk, gives 500 gold per use, if gold <10000
Potions for sale
Pantry (Food, Potion Bottle, Poison, Drunk)
Shelves, can use 4 times. (random loot: Inferno spellbook, Club, Cloth Hat, Long Sword, Dagger, Phirna Root)
Monsters